Apri/Chiudi dettaglio Master
▾
Stato attuale: Da Iniziare
Tipologia corso: Master
Livello:
Tipologia finanziamento:
Costo:
€ (33.000 € Early Bird)
Durata a/mm:
0/13
Posti disponibili:
Crediti formativi:
Scadenza:
19/11/2021
Ammissione:
Inizio:
07/02/2022
Termine:
20/11/2022
Presentazione
About the Executive Master in Luxury Management
The Executive Master in Luxury Management (EMiLUX) is a post-experience, modular program, taught over 13 months. Without having to leave their job, participants will start opening doors they never knew were there, to meet their goals successfully.
EMiLUX aims at training managers and future leaders who want to know the code of this specific industry by providing them with a comprehensive framework of the luxury value-chain. Participants in the program boost their skills and self-confidence, grow fast and become more significant contributors to their companies, as well as stronger and more internationally-oriented business leaders.
The Executive Master in Luxury Management is offered to give you an even bigger range of opportunities, contacts and experiences.
Benefits of choosing EMiLUX
Managing luxury Challenges
EMiLUX is designed with the utmost care to transmit to participants skills and abilities allowing for management of challenges between both modern aspirations and timeless aspects; between aesthetics, creativity and processes and business models.
Training future luxury leaders
Live a worldwide experience in Milano, Rome, Dubai, London, Paris and Mumbai to develop global perspectives, a more strategic mindset and a deeper knowledge of international luxury markets.
European Heritage, Asian Insights
With real life examples, participants will discover careful blending and commitment to both heritage and passion for modernity. Participants will be exposed to the high growth market of Dubai and the lure of the middle-east.
Two lifetime Alumni networks
EMiLUX participants develop an international professional network second to none – being Alumni from two prestigious international Business Schools, they enhance their worldwide reach.
Experience life in Milano, Dubai, Rome, Paris, London and Mumbai
The program benefits from the academic excellence, the expertise and the applied knowledge of our International Faculty, while showing participants completely different and new markets, new business models and new brands emerging from these 5 countries.
To give you the chance to get to know SDA Bocconi and the EMILUX Master, we organize every year online and offline events, visits to the School with the possibility to attend a lesson and individual meetings. All opportunities to speak directly with management, teachers, alumni and staff.
Didattica
Learning Model
Each course will start with a face-to-face residential session, continue online and end with a final exam in the next face-to-face session.
The first two modules are devoted to Core Courses that ensure a solid, common base. Other modules are dedicated to Advanced Courses.
The Face-to-face Modules Feature
· Participants interacting with accomplished executives outside the school, and taking advantage of opportunities to get to know and work with fellow participants from a multitude of backgrounds and nationalities.
· Participants enhancing their understanding of luxury and brand management, through theory and practice.
· Participants being in a position to offer profound contributions to their field, able to seize opportunities and develop superior strategies well ahead of their competitors.
The Online Modules Feature
· Live online classes
· Assignments, both individual and group
· Discussion forums
· Faculty-guided business games
· Video lectures
· Online cases
· Readings
· Participant-created blogs
· Participant networking
· Interaction with participant teams via groupware
· IM, forums, announcements
Materie
Structure and calendar
2020-2021
MODULE I: MILANO - VALUE CREATION IN LUXURY MARKETS
• The changing face of the luxury landscape
• Cultural models of brand building
• Understanding and managing brand identity
• The growth challenge and key dilemmas
• Creativity in luxury
• Business models & strategy
Design Thinking Project
MODULE II: DUBAI - GO TO MARKET
• Doing business in Middle East
• International growth of luxury brands
• Retail safari
• Buying & merchandising
• Location decisions and KPIs
• Country of origin
Hospitality & Retail Tour in Dubai
Held in AUD, American University in Dubai
MODULE III: ROME- MANAGING GROWTH AND EVALUATION PERFORMANCE
• Corporate valuation
• Financing growth
• Data sources and decision making tools
• HR & employer branding
• The launch of entrepreneurial projects (eps)
Study tour in Tuscany and Rome
MODULE IV: PARIS - FOUNDATION OF LUXURY
• Arts & culture
• Luxury values and heritage
• Brand management & analysis
• Trends & concepts of hard luxury
MODULE V: LONDON - APPROACHING CUSTOMERS WITH LUXURY SERVICES
• The importance of storytelling
• Digital transformation and the "connected store"
• Luxury brand communication and semiotics
• Approaching customers in luxury service
• Fundamentals of great service
• Understanding luxury service
• Customer experience & recovery
Held in Dorchester Collection Academy
MODULE VI: MUMBAI - STRATEGIC DIAGNOSIS AND EXTERNAL ENVIROMENT
• Leadership seminar
• Corporate governance in luxury companies
• The new competitive landscape: India and Southeast Asia
• Supply chain management & counterfeiting
• Sustainability
Deep dive into Indian luxury
MODULE VII: MILANO - NEW FRONTIERS & LOOKING AHEAD
• Social media & CRM in luxury
• Luxury trademarks & design
• New technologies (AI, augmented reality,..)
• The future of luxury industries
Design & Beauty Tour
EPs presentation and Graduation
Destinatari
EMiLUX is the Master for you if
• You want to become an executive in luxury business with enhanced perspectives
• You want to develop a deeper knowledge of international luxury market codes with a broadened mindset
• You want to make a career switch towards the luxury sector
• You want to experience top ranked School with connections worldwide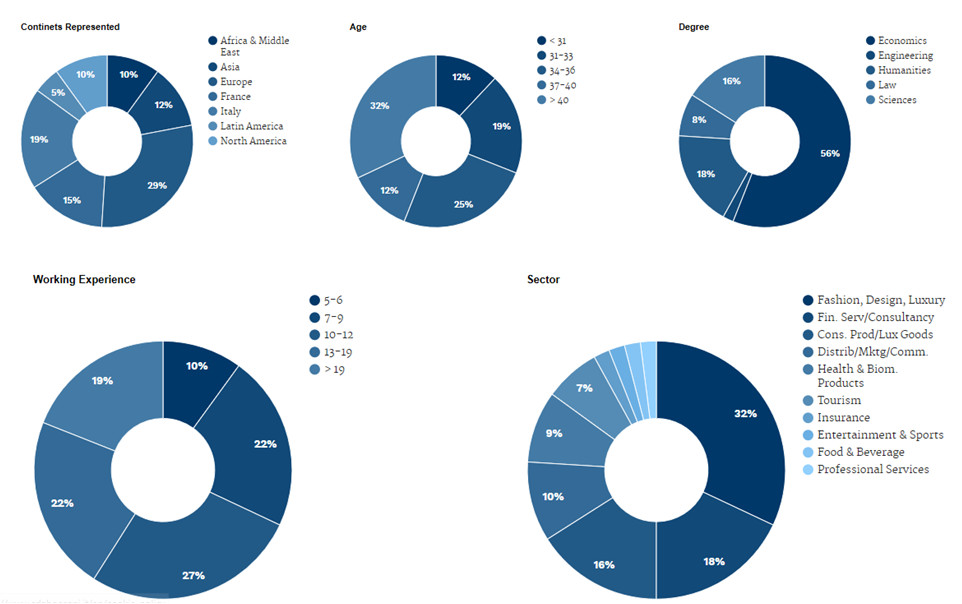 Requisiti
Admissions Requirements
Candidates are required to have
• University Degree (in any discipline)
• Minimum 5 years of professional experience (not necessarily in Luxury)
• Proficiency in English
• Strong motivation
• Good leadership and interpersonal skills
Application form
The application form is available exclusively online and must be completed with accurate and precise information regarding your personal and professional experiences and your reasons for attending the Program.
Costi
The total fee is € 39.000 to be paid in four instalments.
The fees include:
• Tuition
• All teaching materials
• Use of the infrastructure and services of the School
• Catering (coffee breaks) during face-to- face modules
For more info on the EMiLUX costs, click here
Video
#HotTopics. Luxury trends | SDA Bocconi
Mappa
Percorso non trovato. Modifica il punto di partenza oppure il tipo di percorso.
Hotel nelle vicinanze