Current Status: Da Iniziare
Course Type: Master
Level:
Available Financing:
Tuition:
33.000 €
Duration y/mm:
0/12
Places Available:
Credits:
Application Deadline:
06/09/2021
Admissions:
Start Date:
27/10/2021
End Date:
20/10/2022
Description
Breakthrough finance.
The Master in Corporate Finance (MCF) is an intense and stimulating one-year program in English, designed to provide students with the knowledge and skills necessary to drive innovation and master different international finance management techniques and tools, whether you work for a company or an institution. Choosing MCF means investing in your personal and professional development, with a view to taking your career to the next level.
MCF Highlights
• Most MCF graduates go on to enjoy a successful career in finance, fulfilling their original goals when choosing this program.
• SDA Bocconi MCF students are offered the opportunity to complete their education either  in New York or in Mumbai by joining  the NY Track with Fordham University's Master of Science in Global Finance (MSGF), or by attending the Mumbai Track at MISB Bocconi.
• MCF offers articulated content, and differentiated teaching methods to guarantee the best learning.
• The MCF costant growing will offer a broad perspective. A pool of dedicated experts will bring you their daily experience of managerial life: a fine blend of theory and practice, international network, treasuring teamwork and diversity.
To give you the chance to get to know SDA Bocconi and the MCF Master, we organize every year online and offline events, visits to the School with the possibility to attend a lesson and individual meetings.
All opportunities to speak directly with management, teachers, alumni and staff.
Discover the events
Objectives
The mission of the Program is to prepare students to offer high quality solutions to financial problems, both operationally and strategically. The Program is designed to provide you with the most advanced techniques of Financial Management and with an accurate knowledge of the principles that lie behind sound financial decisions: a fine blend of leadership and respect for others, ethics and the appreciation of diversity.
MCF will enable you to:
• Strengthen your theoretical financial knowledge.
• Improve your practical financial knowledge and technical skills.
• Develop critical thinking and analytical problem solving skills.
• Become a "person" manager.
Contents
The MCF provides a full-time commitment: attendance is compulsory and you are required to maintain a high level of attention and involvement in class sessions.
Different methodologies are used throughout the program:
• Class sessions
• Case study discussions in small groups as well as in class
• Simulations and role-playing exercises
• Visiting professors and professional guest speakers
• In-company projects, individual or group
Subject
MCF Structure (XXII Edition 2021-2022):
ONLINE TUTORIALS & PRE-COURSES: Sep 2021 – Oct 2021
CORE COURSES: Nov 2021 – Feb 2022
• Financial Economic
• Financial Accounting
• Financial Analysis
• International Financial Systems
• Financial Modeling
• Financial Management
• Corporate Valuation
• Capital Markets
ADVANCED COURSES: Feb 2022 – May 2022
• Managerial & Entrepreneurial Finance
• Banking and Institutional Finance
• Asset Management & Markets
SEMINARS: May 2022 – June 2022
INDIVIDUAL PATH TO SUCCESS (ALTERNATIVE OPTIONS): July 2022 – Oct 2022
GRADUATION CEREMONY: Nov 2022
Scholarships
Scholarships & Tuition Waivers for the 2021-2022 MCF edition.
SDA Bocconi School of Management makes available 12 partial merit-based tuition waivers to 2021-2022 candidates with an outstanding profile.
Applications are evaluated according to the following criteria:
• Analysis of the requirements indicated in the specific notice of competition
• Analysis of academic and professional records
• Results of the MCF selection process
Student Profile
MCF is the Master for you if
• You want to offer high quality solutions to financial problems.
• You want to be provided with the most advanced techniques of Financial Management.
• You are looking for a blend of leadership and respect for others, ethics and appreciation of diversity.
• You want an internationally recognized qualification.
• You want to operate in complex scenarios with unique tools and capabilities.
Who is a typical MCF participant?
A typical MCF student is a person who is determined to pursue a career in finance. MCF students possess strong intuition and stamina, a solid academic background and sound work experience.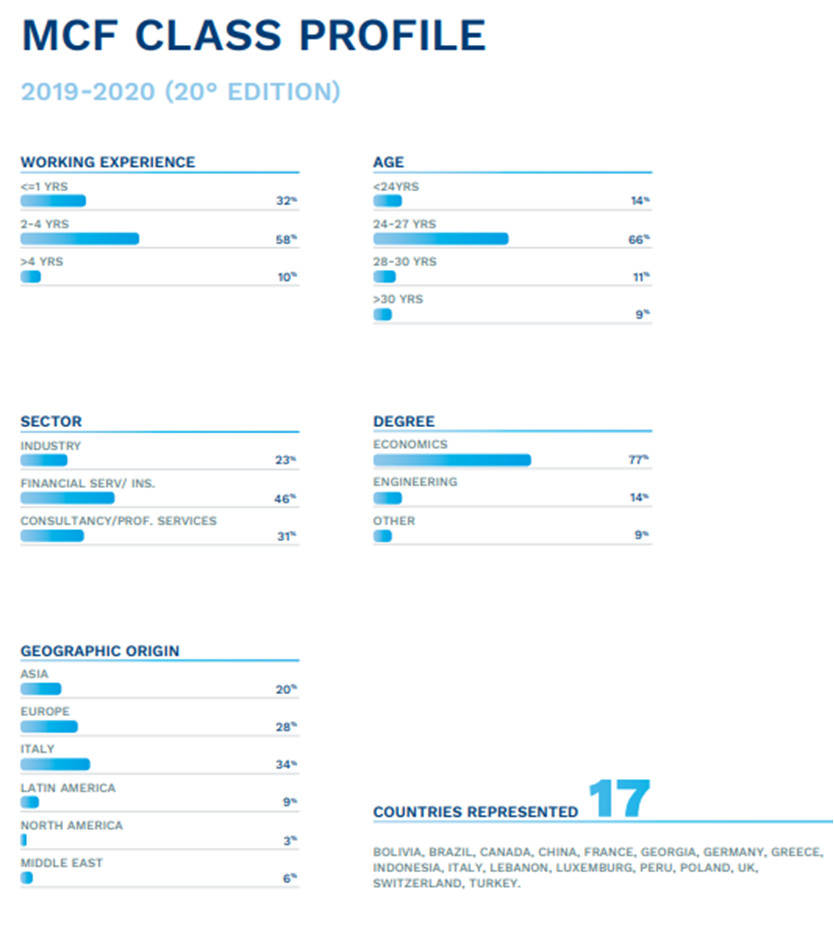 Requirements
Admissions requirements
• A university degree in any discipline
• Fluency in English
• GMAT/GRE or SDA test
• An interview with the program director
Partners
- CFA Program Partner. MCF is part of the CFA Institute University Affiliation Program
- CAIA Specialized Course. MCF is a CAIA (Chartered Alternative Investment Analyst) Association Academic Partner
- GARP. MCF is a GARP Academic Partner
Career Prospects
Most MCF graduates go on to enjoy a successful career in finance, fulfilling their original goals when choosing this program. MCF alumni professional track records provide evidence that 96% of MCF 2018 graduates got a job in finance-related functions within 1 year after completing the Master program.MCF Firm Partner Program
MCF has a proven record of employment opportunities for its graduates.
The unique distinctiveness of the program allows us to attract diverse participants (diverse in working experience, age, academic background, etc.) with the goal to work in the finance world. Our strong relationship with partner firms continues to deepen and graduates find not only high-quality positions, but recognition and fast career enhancement.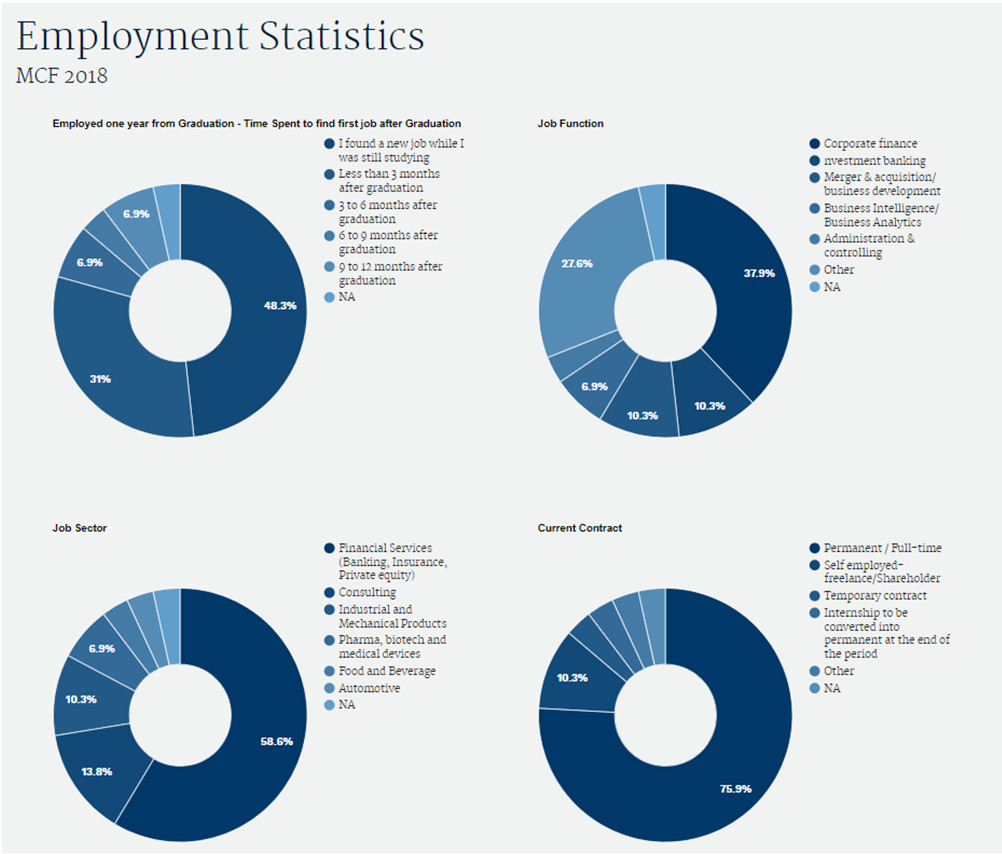 Tuition Fees/Expenses
The total fee for the MCF 2021-2022 program is € 33,000 to be paid in four installments
- First Installment € 9,000 on acceptance of admission offer
- Second Installment € 8,000 by 25 February 2022
- Third Installment € 8,000 by 29 April 2022
- Fourth Installment € 8,000 by 27 May 2022
The total fee for the MCF - Master of Science in Global Finance (MSGF) 2021-2022 program at Fordham New York University is € 46,325 to be paid in five installments:
- First Installment € 9,000 on acceptance of admission offer
- Second Installment € 8,000 by 25 February 2022
- Third Installment € 8,000 by 29 April 2022
- Fourth Installment € 8,000 by 27 May 2022
- Fifth Installment (Fordham) € 13,325 upon receipt of the invoice
The fees include:
• Most teaching material (although some texts must be purchased separately)
• Access to SDA Bocconi's facilities and database
Video
Master in Corporate Finance | SDA Bocconi
Nearby Hotels