Current Status: Da Iniziare
Course Type: Master
Level:
Available Financing:
Tuition:
33.000
Duration y/mm:
0/12
Places Available:
Credits:
Application Deadline:
10/07/2020
Admissions:
Start Date:
24/09/2020
End Date:
28/10/2021
Description
Breakthrough finance.
The Master in Corporate Finance (MCF) is an intense and stimulating one-year program in English, designed to provide students with the knowledge and skills necessary to drive innovation and master different international finance management techniques and tools, whether you work for a company or an institution. Choosing MCF means investing in your personal and professional development, with a view to taking your career to the next level.
MCF is the Master for you if
• You want to offer high quality solutions to financial problems.
• You want to be provided with the most advanced techniques of Financial Management.
• You are looking for a blend of leadership and respect for others, ethics and appreciation of diversity.
•  You want an internationally recognized qualification.
• You want to operate in complex scenarios with unique tools and capabilities.
MCF Highlights
• Most MCF graduates go on to enjoy a successful career in finance, fulfilling their original goals when choosing this program.
• SDA Bocconi MCF students are offered the opportunity to complete their education either  in New York or in Mumbai by joining  the NY Track with Fordham University's Master of Science in Global Finance (MSGF), or by attending the Mumbai Track at MISB Bocconi.
MCF will enable you to:
• Strengthen your theoretical financial knowledge.
• Improve your practical financial knowledge and technical skills.
• Develop critical thinking and analytical problem solving skills.
• Become a "person" manager.
Contents
The mission of the Program is to prepare students to offer high quality solutions to financial problems, both operationally and strategically. The Program is designed to provide you with the most advanced techniques of Financial Management and with an accurate knowledge of the principles that lie behind sound financial decisions: a fine blend of leadership and respect for others, ethics and the appreciation of diversity.
Subject
Student Profile
Who is a typical MCF participant?
A typical MCF student is a person who is determined to pursue a career in finance. MCF students possess strong intuition and stamina, a solid academic background and sound work experience.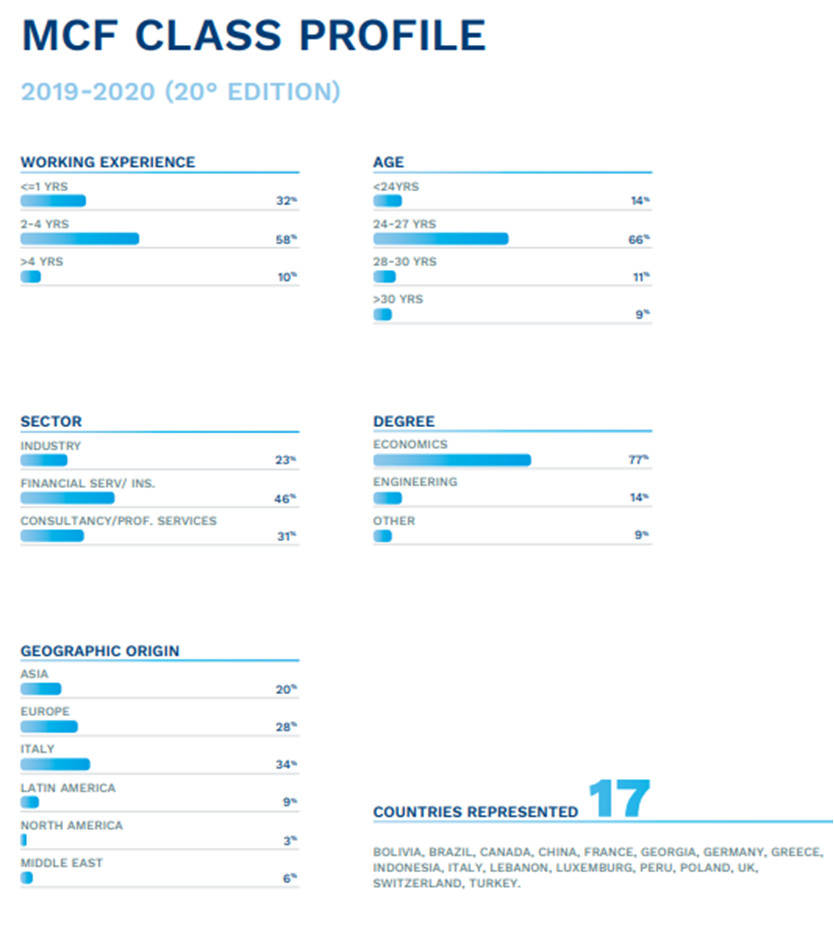 Requirements
Admissions requirements
A graduate degree (in any discipline)
An average of 2/3 years of relevant professional experience
GMAT, TOEFL scores
2 letters of reference
Interview
Partners
Career Prospects
The MCF responds to companies' needs for new talents and people ready to make use of their abilities at best. Our aim is to create charismatic managers with strong and enduring skills needed to keep up with the dominant trends.
By the end of the Program, you will have privileged relationship with those companies you met in the MCF.The Recruiting & Career Development activities are a crossroads between companies and MCF Participants, as they offer you the chance of meeting with those companies that are interested in making use of your abilities. During the Program, the MCF officials organise events and carry out initiatives bound to introduce precious resources to companies, and provides its students with significant contacts.The activities carried out by the MCF team are:
• Preparing and sending out a "CV book". This represents the curricula of all students, in order to highlight the competencies and strengths of each profile. Every year, a selected number of companies receive our CV Book
• Presentations and meetings with companies, banks and consultancy firms
• Sending participants' CVs directly to interested companies
• Keeping participants in touch with the MCF graduates network
• Company Days. Recruiting on campus is one of the most important moments, where companies and participants can get in touch and evaluate each other. January - May is the typical period in which companies offer individual or group projects, while September - December is usually dedicated to presentations
The Program offers you the chance for joining the working world as an empowered protagonist. However, you should not take the placement activities for granted, as the ultimate responsibility for job search and for career choice must remain on you.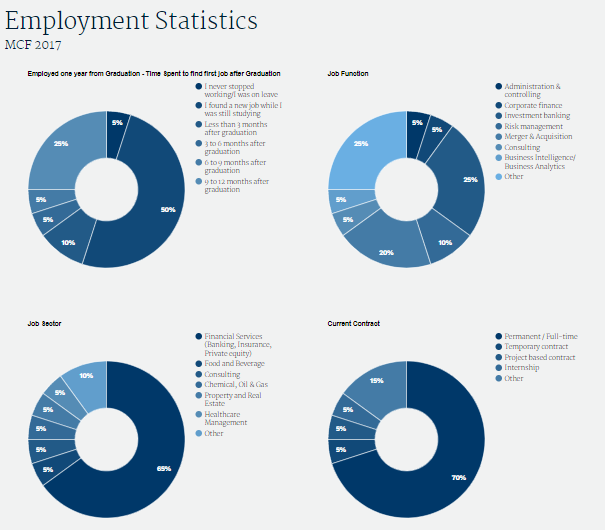 Tuition Fees/Expenses
Video
Master in Corporate Finance | SDA Bocconi