Apri/Chiudi dettaglio Master
▾
Stato attuale: Da Iniziare
Tipologia corso: Master
Livello:
Tipologia finanziamento:
Costo:
34.000 €
Durata a/mm:
0/13
Posti disponibili:
Crediti formativi:
Scadenza:
05/10/2021
Ammissione:
Inizio:
19/01/2022
Termine:
23/02/2023
Presentazione
The real taste of management. The Master of Management in Food and Beverage (MFB) is a full-time, international, 13-month program that is taught entirely in English and attracts students from all over the world. The program focuses on management of F&B and related companies, such as restaurants, hotels, resorts and advanced retailers, from an innovative and effective perspective. MFB has a multidisciplinary approach and adopts an experiential method. Lectures by professors and guest speakers are alternated with group exercises, team and individual projects, simulations, role-playing and case study analysis. You will have many Q&A sessions on contemporary issues the industry faces now and in their perceived future. MFB regards management as a unique recipe that requires many carefully-measured ingredients, including strong theoretical and practical knowledge, vision, drive, determination and the ability to identify opportunities and bring together people, cultures and traditions.
MFB Highlights
• Although there are other programs in the world focused on the food & beverage industry, the SDA Bocconi MFB is the only management program to offer a rounded education in F&B, along with the finest Italy has to offer, to support business and entrepreneurship in this field.
• MFB is organized with the support of Altagamma, an association of internationally renowned Italian companies operating in the high end of the market.
To give you the chance to get to know SDA Bocconi and the MFB Master, we organize every year online and offline events, visits to the School with the possibility to attend a lesson and individual meetings.
All opportunities to speak directly with management, teachers, alumni and staff.
Discover the events
Obiettivi
The mission of the Master of Management in Food & Beverage is to form and train specialized managers, giving them the opportunity to grow with specific and unique knowledge and to strengthen their sensibility and culture in the fine food and beverage industries.The main objectives of the program are:
• 
To
deliver
an education on an entrepreneurial mind-set approach
• 
To
raise
a managerial sensitivity
• 
To
develop
a strong culture of the industry
• 
To
build
a strong personal competitive advantage
• 
To
transfer
knowledge and experience from the world's top-quality Professors in the industry
• 
To
combine
the rigorous scientific and methodological strengths of an international leading business school with the Italian tradition, its values and culture and its excellence recognized worldwide.
What MFB can offer you
• Solid foundations in management, including practical, creative and professional skills
• Strong knowledge to operate successfully in the F&B sector, a market that is an important part of the global economy
• Direct contact with excellent companies and their leaders, who are often guest speakers on the program
• A dynamic environment, a focus on the global market and a multidisciplinary approach
• An exceptional faculty, involving worldwide recognized Partners, top executives and managers who will provide their specific professional knowledge and perspective.
Didattica
The Master of Management in Food & Beverage is an intense full- time program.
Class sessions, case study discussions, and assignments in small teams in and out of class are integrated with simulations, role-playing exercises, and business games. You will also have presentations, Q&A sessions, and business case sessions with experienced faculty members, recognized professional faculty, and qualified business guest speakers.
Attendance 5 days a week is mandatory, typically Monday through Friday from 8:30 am to 1:30 pm.
Materie
MFB Structure (13th edition 2022-2023):
PRE-COURSES: October 2021
OPENING WEEK: Mid of January 2022
- MFB Presentation
- SDA Bocconi Presentation and Milan Tour
- Team Building
- Company Visits
CORE AND MANAGERIAL COURSES: End of January 2022 – Mid of June 2022
Experiencial Seminars, i.e. Vinitaly, Pitti Taste, Fuori Salone and Study Tour will play a significant role together with traditional lessons.
F&B FOCUS: Mid of June 2022 – Mid of October 2022
- F&B Products
- F&B Retail
- F&B in Hospitality
MANAGEMENT IN ACTION - FALL TERM: Mid of October 2021 – End of February 2022
The final part of the Master is dedicated to the concrete application of the acquired skills, first with field projects carried out with F&B partner companies on real needs and challenges, then with other trial moments such as simulation, business game and study tour.
GRADUATION CEREMONY: February 2023
Destinatari
The format of the program and the needs of the market result in the fact that only a small number of places are available in MFB each year. Those who are selected are extremely talented and motivated and the program provides the time and focus on each individual to hone and enrich their skills.
We search for young talents who are willing and committed to become leaders and excellent managers.
To be considered for MFB, a candidate must have at least two years successful work experience.
MFB is the Master for you if
• You aspire to take up a managerial role in the intriguing field of Food & Beverage and related industries
• You want to discover how to be successful in restaurant and hotel business
• You need to be more specialized in order to progress in your career
• You want the opportunity to interact with international leaders in this sector
• You are ready for the challenge of a specialized and intense business program
• You are ready for an innovative curriculum from an internationally recognized School of Management.
Requisiti
Candidates are required to have:
• University degree in any discipline
• International profile with at least two years of professional experience
• Fluency in English. Candidates whose mother tongue is not English are required to submit a TOEFL,IELTS, PTE Academic or CPE result
• SDA Test. Details on the SDA Test will be communicated by the Admissions Service once the pre-selection is complete
• An interview with the program director
Stage
Field Projects
This Master is characterized by a direct and practical approach to matters related to the fine food and beverage industries. A direct experience of real life projects is fundamental to gain a good perception of what the companies look for and what the main issues and problems in managing this kind of firms can be.
Projects related to real cases, in-house Italian firm presentations, product tasting sessions and company visits allow to build a strong feeling of the industry, to be well trained and be aware of business life issues.
The Faculty developed updated teaching materials specifically for the course and provides students a tailor made insight of the industry, which this gives the attendees information specifically developed to suit their knowledge.
Career Advising (More info.)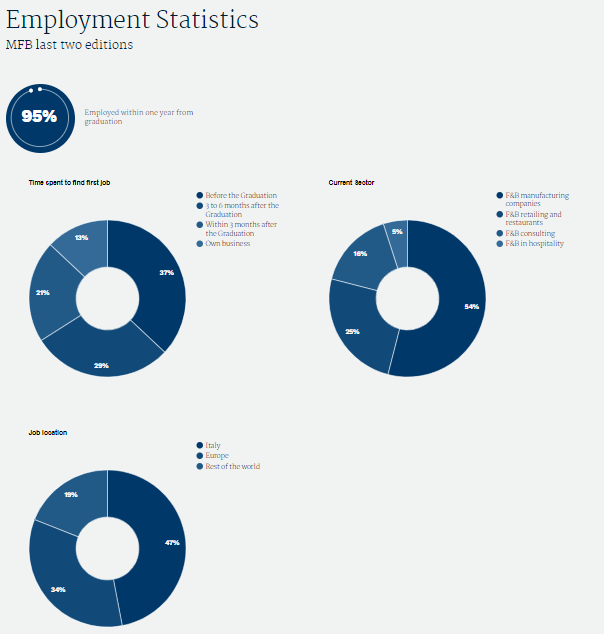 Costi
The total fee for MFB 2021-2022 is € 34.000.
• First Installment: € 8.500 on acceptance of admission offer
• Second Installment: € 8.500 no later than 28 January 2022
• Third Installment: € 8.500 no later than 31 March 2022
• Fourth Installment: € 8.500 no later than 31 May 2022
The fees include:
• Internal teaching material used during the program (some books are not included)
• Visits to companies
• Courses in Italian language, with the possibility of attaining the CILS qualification of Italian language proficiency
• Access to the Bocconi University library and online database.
Other costs:
• Admissions fee: € 120
Video
MFB Reunion | SDA Bocconi
Mappa
Percorso non trovato. Modifica il punto di partenza oppure il tipo di percorso.
Hotel nelle vicinanze